Building regulations and standards for chimneys
Regulations
The construction and application of chimneys and flues is covered by UK Building Regulations in conjunction with the relevant European and British Standards. Whilst these differ in emphasis, they all mandate the safe application of the chimney no matter where and how used. These Regulations and Standards dictate the minimum criteria which it is necessary to apply if the chimney or flue is to function safely and correctly. Building control approval is necessary for building new chimneys and in some cases for relining old chimneys particularly if some alteration or change of the heating appliance occurs. The appropriate Regulations and Standards are listed in the section below.
England & Wales: The Building Regulations Approved Document J
Scotland: Building Regulations Technical Standards
Northern Ireland: Technical Booklet L Section 3 Building Regulations Northern Ireland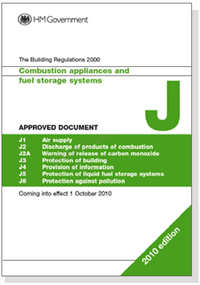 The UK is replacing the CE mark with the UKCA mark (UK Conformity Assessed). The current plan is to implement the change in 2025, after a number of false dawns.
Since the publication of Document J in 2010, the National Annex to BS EN 15287-1 has been updated. Document J now recognises the alternative installation methods introduced in the updated National Annex to BS EN 15287-1. An acknowledgement of the updated standard has been posted in the Frequently Asked Questions and Answers section of Document J. This removes any grey issues in working to the updated European standard.The updated advice from the annex has been included in this document and will be highlighted in a blue shaded box.
European and British Standards which relate to Flues and Chimneys
All of the standards referenced below are either directly applicable to chimneys and flues, or contain relevant content and are correct at the time of publication of this document. Many of the standards cover the use for all fuels. Any Standards which are NOT pertinent to wood burning and multi fuel appliances have been italicised.
Copies of European and British Standards can be obtained from:
British Standards Institution, 389 Chiswick High Road, Chiswick, London. W4 4AL. Tel: 0208 9969000
BS EN 483:2000 Gas-fired central heating boilers. Type C boilers of nominal heat input not exceeding 70 kW. Replaced BS 5258: Pt 1; 1986
BS EN 509:2000 Decorative fuel-effect gas appliances. Replaced BS 5258: Pt 12; 1990.
BS 715: 2005 Specification for metal flue boxes for gas-fired appliances not exceeding 20kW.
BS 1251: 1987 Specification for open fireplace components.
BS EN 1443: 2003 Chimneys – general requirements
BS EN 1457: 2012 Chimneys, Clay/Ceramic flue liners. Requirements and test methods. Replaced BS 1457: 1999
BS EN 15287+A1: 2010 Chimneys - Design, installation and commissioning of chimneys. Pt 1: Chimneys for non-roomsealed heating appliances. Replaced BS EN 15287-1: 2007
BS EN 1806: 2006 Chimneys Clay/ceramic flue blocks for single wall chimneys. Requirements and test methods
BS EN 1856 - 1: 2009 Chimneys. Requirements for metal chimneys. System chimney products. Replaced BS 4543: Pts 2 and 3 & BS 715: 1993
BS EN 1856 - 2: 2009 Chimneys. Requirements for metal chimneys. Metal liners and connecting metal flue pipes Replaced BS 715: 1993
BS EN 1857: 2010 Chimneys - Components. Concrete flue liners. Replaced BS 7435:Pts 1-2
BS EN 1858 2008: Chimneys, Components, Concrete flue blocks. Replaced BS1289: Pt 1
BS EN 1859 2009 Chimneys. Metal chimneys. Test methods. Replaced BS 4543: Pt 1:1990
BS 5871: 2005 Specification for installation of gas fires, convector heaters, fire/back boilers and decorative fuel effect gas appliances
Pt1: Gas fires, convector heaters and fire/back boilers.
Pt2: Inset live fuel effect gas fires of heat input not exceeding 15kW.
Pt3: Decorative fuel effect gas appliances of heat input not exceeding 15kW.
BS 5440: 2008 Installation of flues and ventilation for gas appliances of rated input not exceeding 70 kW.
Pt1: 2008 Specification for installation of flues.
Pt2: 2008 Specification for installation of ventilation for gas appliances.
BS15287-2 Room-Sealed Appliances. Installation of chimneys and flues for room sealed domestic appliances burning solid fuel (including wood and peat).
BS 6999:1989 Specification for vitreous-enamelled low carbon steel flue pipes
BS 7977-1:2009 Specification for safety and rational use of energy of domestic gas appliances.Radiant/convectors Replaced BS 5258: Pts 5 and 16
BS 7977-2:2009 Specification for safety and rational use of energy of domestic gas appliances. Combined appliances. Gas fire/back boiler. Replaced BS 5258: Part 8
BS EN 12446 : 2011 Chimneys. Components. Concrete outer wall elements
BS EN 13063-1: 2005 Chimneys. System chimneys with clay/ceramic flue liners. Requirements and test methods for sootfire resistance
BS EN 13063-2: 2005 Chimneys. System chimneys with clay/ceramic flue liners. Requirements and test methods under wet conditions
BS EN 13069: 2005 Chimneys. Clay/ceramic outer walls for system chimneys. Requirements and test methods
BS EN 13216 : 2004 Chimneys. Test methods for system chimneys. Replaced BS 4543
BS EN 13502 : 2002 Chimneys. Requirements and test methods for clay/ceramic flue terminals. Replaced BS 1181:1999.
BS EN 50291-1: 2010. Electrical apparatus for the detection of carbon monoxide in domestic premises. Test methods and performance requirements.
Chimney Principles
The terms flue and chimney are often used interchangeably. The flue is the working part of the chimney, conveying the products of combustion safely to the atmosphere. The chimney includes the shaft within which the flue is housed. A flue works under negative pressure drawing the product of combustion from the appliance.
A successful "chimney draw" is dependent on the following principles:
The difference in air pressure between the appliance and the top of the chimney. (created by the height of the chimney)
The difference in temperature between the appliance's exhaust gas and the outside temperature.
The quality of insulation along the length of the chimney.
The route of chimney. (The straighter and more vertical the chimney the better).
It is essential to choose a flue diameter that matches the output from the appliance. An adequate air supply is also required for the appliance to operate safely and efficiently.
Fuel Burning
A chimney operates on the principle of having a natural up draught. One factor in creating the up draught is maintaining a warm flue gas temperature.
The recommended temperature range in Document J is between 150˚C and 450˚C. The upper temperature in the new BS EN 15287-1 has been reduced to 400˚C.
Burning wood or multi fuel slowly with insufficient air supply, particularly on stoves or closed appliances must be avoided. Low flue gas temperatures will cause condensation and greatly increases the risk of producing excessive tar and corrosive soot deposits. This is a common problem, particularly when burning wet wood or coal and should be avoided. If soot and condensate deposits are allowed to accumulate in a flue, the deposits can ignite causing a chimney fire. These deposits can also be very corrosive and if they are not regularly removed can cause corrosion of the metal parts of both the chimney and the appliance.
When burning wood it is important to ensure that it is dry and well-seasoned. The HETAS Wood Fuel Guide provides useful information on the use of wood as a fuel. Always use suitable solid fuels. Some processed fuels can produce abnormally high temperatures together with very corrosive deposits. The HETAS Guide also contains a list of suitable fuels. An Approved Solid Fuel Merchant should also be able to give advice. Never burn household waste, plastics or chemicals, which can produce harmful fumes and corrosive vapours. These vapours can be dangerous to health and cause premature corrosion of metals. Where the appliance is slumbered overnight or for long periods it is advisable to run the appliance at high fire in a controlled manner for a period of at least 30 minutes. Slumbering is a contributing factor to premature liner failure through corrosion. It is important to ensure a sufficiently high flue gas temperature to minimise the products of combustion condensing out of the flue gases.
Do's and Don'ts
Do
Ensure that when an appliance is fitted to an existing chimney system it is inspected and tested for soundness and any defects are rectified.
Ensure that chimney or flue system is always installed and supported and that all joints are properly, securely and efficiently made strictly in accordance with the manufacturer's instructions.
Ensure that the flue pipe connection from the appliance rises vertically for at least 600 mm before any change of direction is contemplated. The reason for this is that the flue draught is crucial nearer the appliance because of the higher flue gas temperature. Any horizontal or angled runs at the bottom of the flue will create severe restriction to flue gas movement and affect appliance operation.
Try to construct the chimney vertically all the way to the terminal. Where bends are necessary, do not use more than 4 bends. Generally the maximum bend is 45° from the vertical with the exception of 90° factory made bends or tees which may be treated as being equal to two 45° bends.
Ensure that the flue diameter is not less than the diameter of the appliance outlet.
Ensure that the effective height of any chimney with bends (vertical distance between appliance and terminal) is at least twice the horizontal distance between the appliance and terminal.
Try to position the chimney inside the building to avoid excessive cooling and risk of condensation.
Ensure that the chimney is installed and located in accordance with Building Regulations and British Standards, particularly where distinct distances from combustible materials are required.
Ensure that the chimney is thoroughly inspected, and that smoke tests are carried out before the appliance is used.
Remember a permanent supply of combustion air must be provided and kept clear from obstruction.
Remember that a heating appliance needs to be checked regularly and the flues expertly swept.
Ensure that the installation is carried out by a HETAS registered installer.
Ensure an approved Carbon Monoxide Alarm is installed on every installation.
Ensure the Notice / Data Plate is correctly completed and positioned.
Don't
Use any single wall flue system as a chimney.
Allow clothes, furnishings or any combustible materials to come into contact with the surface of any flue pipe or prefabricated metal chimney.
Use bends if they can be avoided.
Run horizontal flue anywhere in the system other than a maximum 150mm horizontal length into the chimney from a back outlet appliance, if you are working to the current Document J. If you are following the new BS EN 15287-1 the maximum distance is 450mm.
Position the chimney externally if it can be avoided.
Be tempted to use non BS EN certificated flue and chimney systems; they may only last for a short time and will have to be replaced by the correct product. It will then be at least twice as expensive in the long run. Use of non-approved products is also illegal.